What happens on a mission
Have you ever wondered what happens high above London when someone in the city needs urgent help from our team?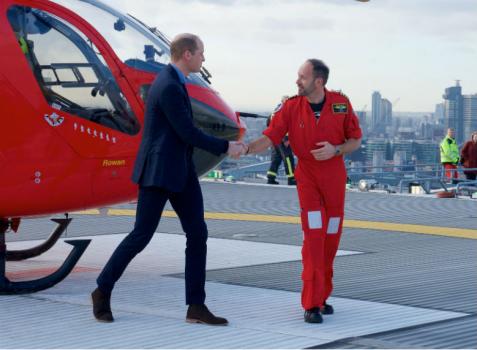 Our 30th Anniversary
This year, our charity marks 30 years of saving lives. The Duke of Cambridge is the Patron of the campaign. See how you can help us celebrate and reflect with us on the last three decades.
Patient Stories
Read our patients' stories to learn more about the care London's Air Ambulance provides on-scene, and the impact that this has on our patients, their families and their recoveries.
"To us, the team at London's Air Ambulance are absolute heroes. My son wouldn't be alive today if it wasn't for this life saving charity…"
Get Involved
There are a number of ways you can support London's Air Ambulance Charity such as holding a fundraising event in your local community, joining our weekly lottery with the chance of winning £1,000 or joining us as a volunteer.
Who we are
London's Air Ambulance is the charity that delivers an advanced trauma team to London's most seriously injured patients. Using a helicopter from 08:00 to sunset, and rapid response cars at night or in adverse weather situations, London's Air Ambulance brings the hospital to the patient when time is critical.
Events and Fundraising
Whether you want to run, cycle, abseil or take part in another personal challenge to raise money, we would love for you to get involved and help us treat an average of five patients every day.
London Landmarks Half Marathon 2020
The London Landmarks Half Marathon is a closed road, central London run and is the only half marathon to go through both the City of London and City of Westminster. The race starts on Pall Mall, finishes by Downing Street and has fabulous views of London's most iconic landmarks including Big Ben, St Paul's Cathedral, Nelson's Column, the Gherkin,…
Virgin Money London Marathon 2020
The Virgin Money London Marathon is London's most popular sporting event with over 40,000 people taking part and millions of pounds raised every year. We would love you to join our London Marathon team and raise money for our life-saving charity.
Sponsor a friend
If someone you know has set up an online fundraising page to raise money for us, you can help them reach their target by donating directly to their page
Set Up a Fundraising Page
Got an idea for a fundraising event that's not featured on our website? Perhaps you want to arrange your own event at your local school, workplace or sports club? Or have you signed up to a charity run or charity cycle? Set up your fundraising page and start fundraising today.
Donate today
Without the support of the community it would not be possible to continue our life saving work. Your donation today could save the life of a loved one tomorrow.