16 Mar 2018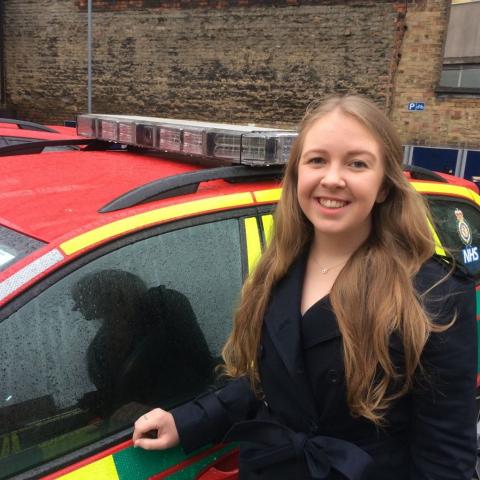 When your life has been turned upside down by serious injury, the road ahead can be hard to comprehend. At these times, it can be invaluable to hear from those who have been on the journey you are about to take. In co-writing our new patient booklet, Dr Siobhan Williams produced a resource to inspire and provide comfort to those who have recently experienced trauma.
"I wanted the stories to be representative of what the patients and their families went through", Siobhan told us. "All of their stories are so personal and different. The strength that they had to overcome the different traumas and obstacles through their recovery is evident throughout every story."
Siobhan first became involved with the patient booklet when she was the Lead Student of the Pre-Hospital Care Programme during her fourth year at Barts and The London Medical School. "I can't remember the exact title of the first Pre-Hospital Care talk I went to in my first year of medical school, but I do remember being completely captivated. The medicine, the scene management, how the clinicians treated the patient, it was all so interesting to me. As Lead Student, I helped to organise the programme and that's how I first became involved with the London's Air Ambulance team.
"I was invited to join the project by Dr Chris Episkopos and Frank Chege [our service's Patient Liaison Nurse], who I co-wrote the booklet with. Frank suggested patients that would like to share their story and I then had the opportunity to interview them and their families. In the end, I wrote 9 of the 10 stories in the booklet. I also helped with the publication process, including collecting photos, reviewing the designs and making sure that the stories were written in a way that the patients were proud of."
"It was a project that took time, but it was highly rewarding", Siobhan reflected. "It's amazing to see the finished version. The best part about the process was talking to the patients and their families. I heard about how their lives were turned upside down in an instance and their journey from that moment onwards. I learned so much, the sheer courage and human strength was wonderful to see throughout the project.
"I thought a lot about what I hoped the patient booklet would achieve while I was writing it. I hope it gives patients and their family members, who have experienced trauma, a better understanding about what the next few weeks, months and years are going to be like. Everyone's story and journey is different but hopefully this booklet will be able to give people hope.
Siobhan graduated from medical school in 2017 and is now working as a Junior Doctor in Barts Health NHS Trust. "I'm looking forward to working in the Emergency Department next year. Throughout medical school I've always had an interest in Anaesthetics and I would love to get involved in Pre-Hospital care in the future."