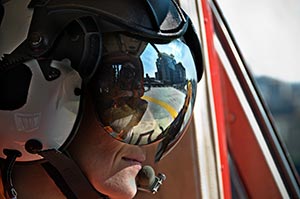 Since we were founded in 1989, our charity has grown from just a few pioneers to a wide team of operational crew and fundraising staff.
Whether it's our pilots, fire crew or charity team, every member of our workforce has a vital part in providing London with our service. Read their bios to find out how they keep us running.   
Donate
Without the support of the community it would not be possible to continue our life saving work. Your donation today could save the life of a loved one tomorrow.
Our Patron
We are proud to have His Royal Highness, The Prince of Wales, as Patron of London's Air Ambulance Charity. He became our Patron in March 2020, find out more here.
Our Ambassadors
We are proud and delighted to be supported by some special people who move us forward and help spread our vital work throughout the capital.
Our Ambassadors add value to London's Air Ambulance Charity by:
Helping to raise valuable funds
Making an individual financial contribution
Opening up networks and attracting new supporters
Being named on literature / publicity material (where appropriate)
Generating media coverage about the charity or its work
Hosting or attending fundraising or other events
Generating awareness of the charity's achievements and campaigns 
Contributing to the public image of the organisation.
Our current Ambassadors are:
Lord Maxwell Beaverbrook
Ward Hamilton
Bernardo Hartogs
Mike Hussey
Dr Hilary Jones
Julia Leal-Hartogs
Sir Harry Solomon
Paul White
Dr Alastair Wilson OBE
Juliet Solomon
Richard Harris
Sir George Iacobescu CBE
We are grateful to them for their continued contribution to our vital work.
Careers
Exceptional care requires exceptional people. Whether it's our pilots, fire crew or charity staff, every member of our team provides critical support to keep our life-saving service running.
Education
London's Air Ambulance has produced materials covering all aspects of the charity's life-saving work, from helicopter engineering and medical biology to charity finance, to help students go beyond the classroom in their studies.
London's Air Ambulance Charity is supported by Convene who provide us with a digital board portal to allows us to have secure paperless Board and Committee meetings.