11 Jun 2015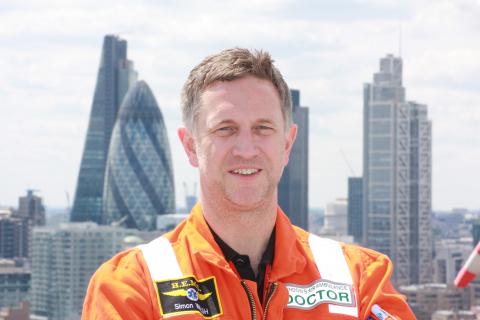 A few weeks ago, you might have seen Simon performing open heart surgery at the roadside on BBC 2's 'An Hour to Save Your Life' programme. When Simon started medical school, such a procedure outside hospital would be unimaginable.  In fact, London's Air Ambulance did not even exist. The Helicopter Emergency Medical Service only appeared on the rooftop of The Royal London Hospital the following year. "I didn't know much about London's Air Ambulance then but I never really thought that it [working for the charity] was something I could be good enough to do. It seemed so daunting," recalls Simon.
Simon specialises in emergency medicine and subspecialises in paediatric emergency medicine. He has spent ten years working in the Emergency Department at The Royal London Hospital before joining London's Air Ambulance. "I spend half of my time in paediatrics working with children, half working with adults."   
"If you ask a child why they want to be a doctor, they say 'to help people get better'. That's exactly what it is. My dad was a GP in the days before internet and mobile. When he was on call, the landline was the only way to contact him. My mum and I would pick up the phone and take the message from anyone who needed him. I grew up in that environment and realised early on I wanted to be a doctor."
Why Paediatrics?
"Children are very genuine and open in their expression of when they feel better. It is very rewarding. And I enjoy the challenge of supporting their parents throughout the process. If you go out to a critically injured child as a doctor with London's Air Ambulance, there is a lot more emotion, a lot more stress  for everyone at the scene. The child's parents or family might be on scene. You have to make sure you look after the family as well as the child. You also have to support the rest of the team — fire crew, police, London Ambulance Service… You have to remember that for just about everybody else in the team it would be rare to deal with trauma [severe injury] and vanishingly rare to deal with a severely injured child.
"It's a privilege to see someone who has been severely injured and has come out the other end. I've recently met someone I treated who I thought may not survive. Then you see them walking towards you. They tell you how they are rebuilding their life. It's rewarding. But the other side of it is that you deal with severely injured children and adults who don't all do well."
"What the 'An Hour to Save Your Life' programme has showed quite well is the lengths we would go to and the prospects of people who few years ago might not have survived transport to the hospital. It showed how London's Air Ambulance works very effectively with Barts Health NHS Trust to make a difference for the patient. Sometimes that difference can be the difference between life and death. It is important that the London's Air Ambulance charity is there for anyone who might need it."