19th Jun 2018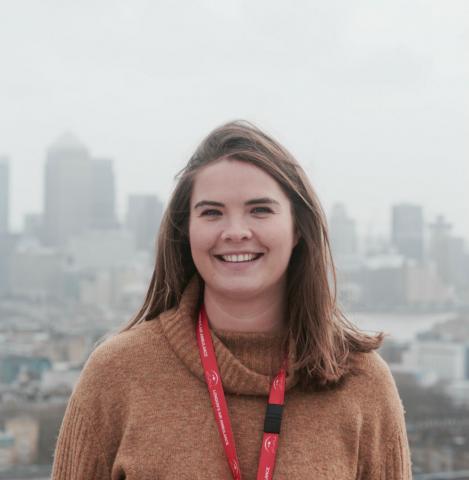 Whether they're delivering community talks, running our shop or helping at our office, we are lucky to have such a dedicated team of volunteers. Volunteers Week, a national celebration of those who give their time, is a wonderful opportunity to recognise our volunteers' invaluable contribution. As Volunteering Coordinator, Sophie is their first point of contact with our charity, and works to recruit, manage and develop our team. She told us more about her work, and how we marked the occasion.
On her role
"I've always felt that volunteering can have such a strong impact on the development of a good society, so coming to London's Air Ambulance to work directly with volunteers really appealed to me. My job falls into two parts: recruiting new volunteers and managing those already with us. We need to make sure that the experience we can offer volunteers stands out, and that they have a good time with our charity. It's my job to make sure they're prepared for and booked into all their opportunities, are engaged and up to date with our service, and that they're happy in their role."
On our volunteers
"The best thing about my job is getting to work with such a nice and diverse group of people. I get to have lots of in-depth conversations with our volunteers, find out what's going on in their lives and help them feel at home in the charity. Everyone comes to volunteering for a different reason. Some are ex-patients that want to give back to the service that saved their life. Some are retired but want to keep active and busy. Others see it as an opportunity to gain experience, or just want to use their spare time to help others.
"I knew that our volunteers were passionate, but it's surprised me how dedicated some are. Volunteering for our charity is a big part of their lives and making sure that you're meeting their expectations is both a challenge and a privilege. While our team don't volunteer for recognition, it's important to us that they know how much we appreciate all that they do."
On volunteers week
"Volunteers Week is an opportunity to celebrate our volunteers, and highlight how much they contribute to the charity. This year, Frank, our Patient Liaison Nurse, held a learning session at our office. This gave the volunteers a chance to hear stories from our operational team, and learn more about how the money they raise is used to treat our patients. We also launched our Volunteers Newsletter, a chance to share updates from the past few months, and took the opportunity to send all our volunteers a handwritten card to say a personal thank you.
"It's a good chance to make sure the volunteers know just how much they do. When you're standing with a bucket on a cold January morning, it might not seem like a lot, but it contributes to over £100,000 that is raised directly by volunteers each year. It's these small acts that are so important, and we want each person to know that it makes an important contribution to the bigger picture.
"If you'd like to join our team, we have plenty of opportunities available. Call 020 3023 3300 or email volunteer@londonsairambulance.co.uk to talk about how your can get involved."