28 Feb 2020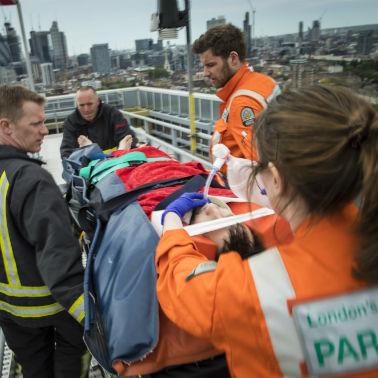 Today we are releasing our mission statistics for 2019 in order to raise awareness of the work we do day and night to help save lives in the capital.
In 2019, our charity's 30th anniversary year, we took an advanced trauma team to 1730 patients whose lives were on the line. This is an increase of 74 missions compared to last year.
Analysis of the data shows that the busiest boroughs were Westminster and Haringey. Our trauma team were deployed the most on a Sunday, May was the busiest month, and the busiest time was between 12 and 1am. Of the 1730 critical missions the team were dispatched to, nearly one third of injuries were from stabbings and shootings (32%) or road traffic incidents (28%) and one fifth due to falls from height (22%).
Treatments now delivered by the team on-scene include pre-hospital REBOA, to help patients suffering serious internal pelvic bleeding, and carrying blood on board, resulting in significant drop in number of patients bleeding to death before reaching hospital.
Of the 1730 patients treated, the types of injury were:
Stabbings and shootings: 545 (32% of total)

Road Traffic Collisions: 483 (28%)

Falls from height: 381 (22%)

Other: 246 (14%)

Medical emergencies: 75 (4%)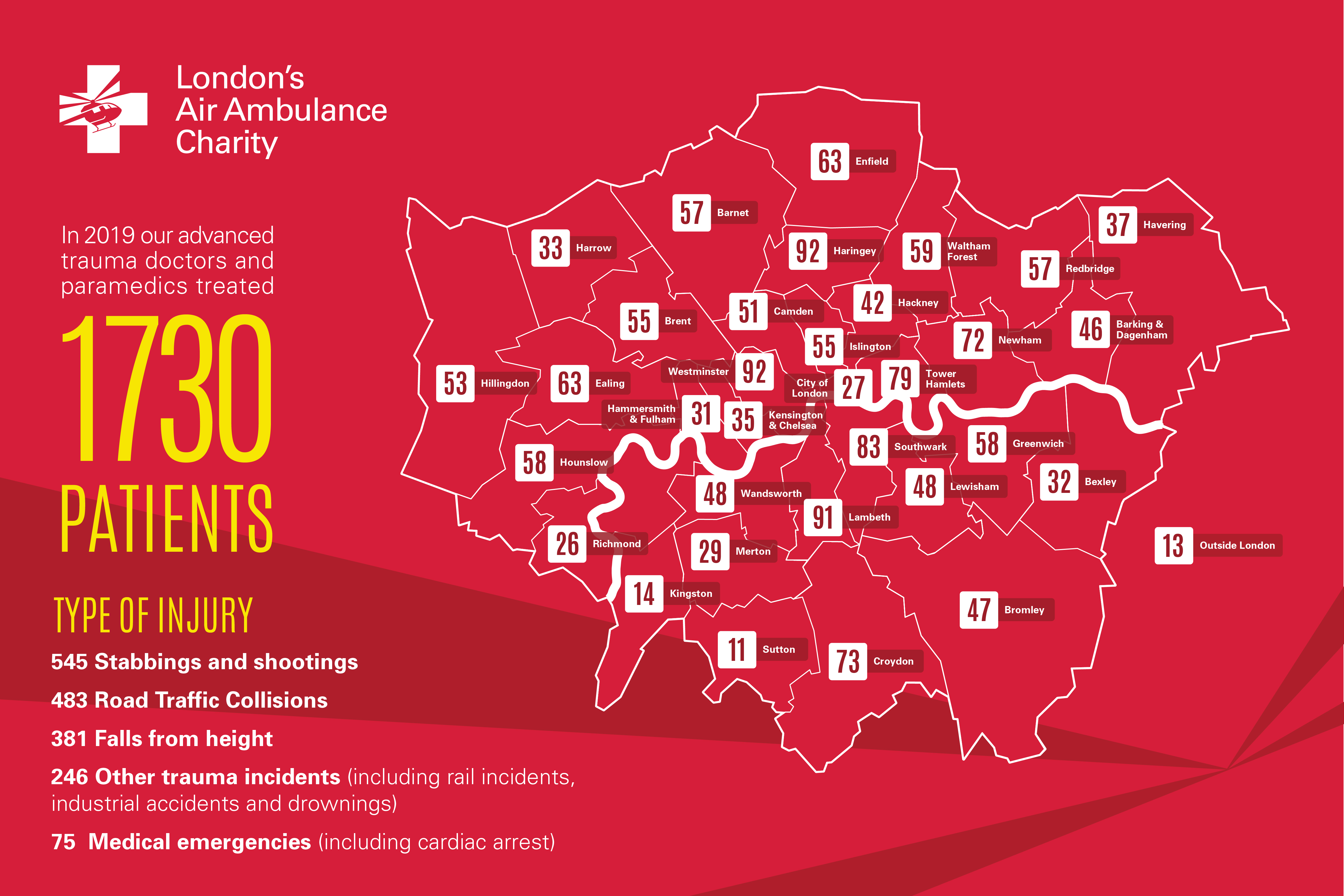 Medical Director Dr Tom Hurst said:
"Critical injury from road traffic incidents, falls from height, assaults and other injuries are the biggest killer of people aged under 40. We have a proud history of pioneering new ways to save lives and have developed ground-breaking treatments that mean people who would have died at the scene of the incident a few years ago are now surviving.
Sadly, there are still some patients whose injuries are so severe that they don't survive. That's why we are committed to investing in research and development and collaborating with our partners to find new techniques and treatments that can create more survivors in the future."
Jonathan Jenkins, CEO of London's Air Ambulance Charity, said:
"Every day, London's Air Ambulance Charity is ready to deliver rapid response and cutting-edge medical care to people who are in urgent need, but we couldn't do it without the support of the public.
Every second counts in an emergency – we hope the public will continue to help us get there in time to save a life by donating at londonsairambulance.org.uk/donate."
The data is also broken down by area, which shows that the busiest boroughs were Haringey, Westminster and Lambeth and the busiest postcode areas were SE1, W1 and CR0.
Click here for further details about our impact.
Top Ten Busiest Boroughs 2019

Top Ten Busiest Postcodes 2019

1.

Westminster 

(92 patients treated)

1. SE1 

(39 patients treated)

1. =

Haringey

 

(92 patients)

2. W1

(34 patients treated)

2. Lambeth

 

(91 patients)

3. CR0 

(32 patients treated)

3. Southwark 

(83 patients)

3. 

E17 

(26 patients treated)

4. Tower Hamlets 

(79 patients)

5. SW9 

(25 patients treated)

5. Croydon

(73 patients)

5. = NW1 

(25 patients treated)

6. Newham 

(72 patients)

5. = E14 

(25 patients treated)

7. Ealing 

(63 patients)

6. N4

(24 patients treated)

7. = Enfield 

(63 patients)

7. = IG1 

(24 patients treated)

8. Waltham Forest 

(59 patients)

8. = E1 

(24 patients treated)