25 Oct 2019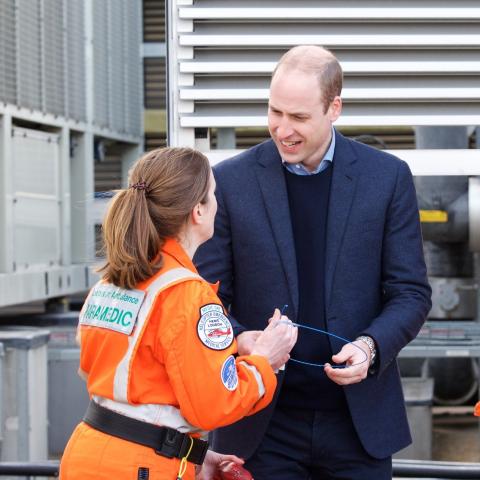 London's Air Ambulance Charity has announced details of its Gala Dinner, which will be attended by HRH The Duke of Cambridge in his capacity as Patron of the Charity's 30th Anniversary campaign, 30 Years Saving Lives.
Jonathan Jenkins, CEO of London's Air Ambulance Charity said;
"The Charity is honoured to welcome HRH The Duke of Cambridge to our Gala Dinner as we mark this very special milestone in 2019.  The Duke's generous and heartfelt backing for our Charity this year has been greatly appreciated by our operational crews, charity staff and all our supporters.
The Gala is the culmination of our Anniversary year, and we are humbled by the support we have received from donors and supporters as we aim to make this our most successful Gala.  Not only is it an opportunity to raise much needed funds so we can continue to be there for our patients, but the event will allow us to reflect on the extraordinary efforts of everyone involved in our work over the last three decades."
The 30 Years Saving Lives campaign was launched by HRH The Duke of Cambridge on 9 January 2019 and aims to highlight the charity's vital work delivering lifesaving treatment across London and raise support for the development of new facilities.  The campaign has already successfully raised almost £2million towards the development of new facilities and resulted in a significant boost in awareness of the work of the life-saving charity.
London's Air Ambulance Charity Gala Dinner will take place on 7 November at a central London location. The Duke will meet with medical and operational crew, former patients and supporters of the charity and deliver a speech in support of the critical life-saving work the charity delivers every second of every day in the capital.
The Gala will be hosted by presenter Natalie Pinkham.
Corporate sponsors include Maddox Gallery, Citco Group of Companies and long standing charity partner life and pensions consolidator Phoenix Group.
Louise Robertshaw, Director of Fundraising and Marketing at London's Air Ambulance Charity said
"Maddox Gallery, Citco Group of Companies and Phoenix Group have provided generous support to ensure the 30th Anniversary Gala will be the charity's most successful and memorable event in its history. We are extremely grateful to them for their belief in our vital cause which will have such a great impact on the work we do every day to save lives."
Event partners are William Grant & Sons, Mount Street Printers, Château Marjosse.
Prior to the establishment of the charity in 1989, many seriously injured patients lost their lives unnecessarily because of the delay in receiving prompt and appropriate medical care. Since its inception, London's Air Ambulance has brought the hospital emergency department to the scene of incidents across London, providing vital treatment to the 10 million people who live and work in the city.   It was founded in 1989 and to date has treated over 40,000 patients and attended most major incidents in London.  London's Air Ambulance is a charity that operates in partnership with Barts Health NHS Trust and London Ambulance Service.