10th Sep 2015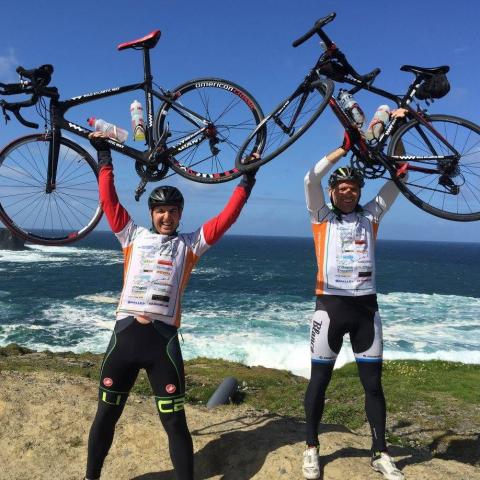 Two London based businessmen cycled over 1800 miles in 12 days last month along the west coast of Ireland, raising money for our 'Your London, Your Helicopter' campaign for a second emergency medical helicopter. Gerry Boots and friend Brendan Barrett started their 'Wild Atlantic Way Charity Cycle Challenge' on 10 August in Kinsale, Co Cork and finished on 21 August in Derry. 
We deliver an advanced trauma team to London's most critically ill. After a serious road accident two years ago, Brendan himself had the help of an air ambulance in saving his life. The pair also had a mutual friend who had the support of an air ambulance — which is why they decided to raise money for us. Brendan and Gerry also raised money for wellbeing support group charity, Mind Yourself. The pair have so far raised over £25,000. 
Also having to battle strong headwind and rain, the 12 day challenge is believed to be the quickest time ever that anyone has cycled this route in. The pair cycled through eight counties in total, climbed 86,880 feet, and burned nearly 60,000 calories.
Father of four and grandfather of one, Gerry is the owner and director of Ultimate Workwear, a Wembley based company supplying work wear to the construction industry, while Brendan is the owner of the construction company JB Structures based in Hertfordshire. 
Mark Davies, Director of Development at London's Air Ambulance said: "We are very grateful to Brendan and Gerry for their support of the charity and thank them for undertaking this remarkable challenge. I hope they've enjoyed a well-deserved rest! 
"With the continued help of our tireless fundraisers and through the generous donations from the public, we will be able to deliver our life-saving service to more people in London." 
Our 'Your London, Your Helicopter' campaign in 2015 successfully raised the funds required to purchase our charity's second helicopter, G-LNDN. Click here to read more about the success of the second helicopter campaign, and the arrival of the helicopter in January 2016.