3rd Jan 2017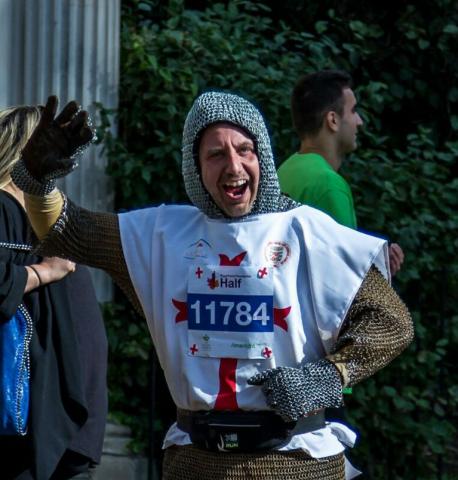 This time last year, Dave Cooke was in the midst of training for the Virgin Money London Marathon to raise money for London's Air Ambulance. But this was no ordinary marathon training plan. Not only was Dave preparing to complete the London Marathon, he was also attempting to gain a new Guinness World Record for the fastest marathon wearing chainmail. 
Having run six marathons previously, Dave decided to up the ante and complete the 26.2 mile challenge on the 24th April 2016 while wearing upper body chainmail, gloves and a hood — weighing almost 20kg in total. Chainmail Dave was successful in his quest and became a Guinness World Record holder with a time of 5:45:51. 
Commenting on his training, Dave said: "It is by far the hardest physical challenge I had ever taken on. My friends and family were amazing. I think when you take up the challenge of running the marathon you don't realise how much extra time you have to spend training — it is not just finding three hours to go for a run, it's the stretching, recovering etc. 
"I have two amazing kids and they would come with me to keep me topped up with water, gels and Lucozade. My son would ride his bike next to me, and my daughter and girlfriend provided car support." 
Instead of putting his feet up after his success at the Virgin Money London Marathon, Dave decided to sign up to the Royal Parks Half Marathon. And yes, you guessed it; his aim was to secure a second Guinness World Record for the fastest half-marathon wearing chainmail. This time around he had support from his girlfriend Claire, who was running her first ever half-marathon. Crossing the finish line at 2:43:51, Dave became a Guinness World Record holder for the second time. 
Dave, with support from his fellow Masons, friends, family and colleagues, raised a phenomenal £5,000 for London's Air Ambulance. Reflecting on his year in chainmail, Dave said: "I would urge anyone who is thinking of taking on a challenge event to go for it. Not only is it an amazing personal achievement, it also helps London's Air Ambulance provide an essential life-saving service".