19 Sep 2016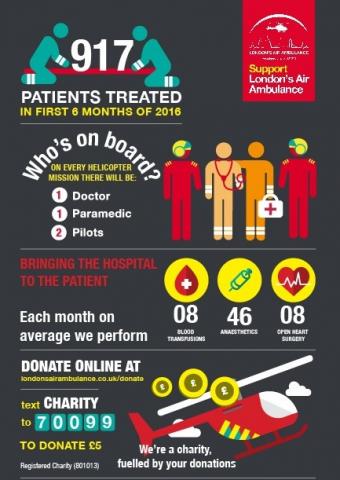 The infographic highlights some of the charity's data from the last 6 months, including the number of patients treated, a breakdown of injury mechanisms, and the procedures performed at the roadside. 
Key statistics:
London's Air Ambulance has treated 917patients in the first months of 2016 The mechanisms of injury were: 
32% (291) Road traffic collisions 
28% (257) Stabbings and shootings
24% (224) Falls 
16% 

(145) 

Other (including incidents on the rail networks, hangings and drownings) 
On average per month London's Air Ambulance perform 
46 anaesthetics
8 open heart surgeries
8 blood transfusions 

The Mayor of London, Sadiq Khan, said: "London's Air Ambulance does an incredible job of providing life-saving support to those in trouble across the capital every day. National Air Ambulance Week is an opportunity to celebrate the crews across the country, who work tirelessly to provide this service. There's lots of fun activities happening across the capital and I urge Londoners to get involved, donate and support the doctors, paramedics, pilots and staff at the coalface of emergency care." 
Download your Borough infographic

Charles Newitt, Interim CEO of London's Air Ambulance, said: "National Air Ambulance Week is the ideal time to release our new infographic with data from the first 6 months of this year. It serves to highlight the work that we do, all across London, all day, and all year. We want everyone in London to know that we are there for them, should they need our help and that as a charity we can't operate without the donations of those that live and work in London.
"National Air Ambulance Week is a week when air ambulance charities across the UK rally together to raise awareness and funds in their local communities. I am urging people to get involved during National Air Ambulance Week in any way you can to support us. Your support is vital in saving lives" 

London's Air Ambulance treats on average five critically injured people in London each day, performing medical interventions at the roadside which are normally only found in a hospital emergency department. Barts Health NHS Trust provide the doctors and some financial support and the London Ambulance Service provides the paramedics and the emergency infrastructure to dispatch the service. The charity relies heavily on voluntary donations and has a world class reputation for delivering clinical innovation and excellence at the roadside. Since its inception 28 years ago, London's Air Ambulance has treated over 35,000 patients. 

NAAW (19th-25th September 2016)NAAW is an initiative created by the Association of Air Ambulances (AAA) and celebrates the work of local air ambulance charities, giving them a national voice and an opportunity to promote the work they do at a local level.Together, the UK's air ambulance charities raise £120 million a year, operate 37 helicopters, have a volunteer network of over 2,500 people and are one of the most exciting and innovative group of organisations in the UK. 
 
During National Air Ambulance Week London's Air Ambulance will be taking part in lots of fundraising events to raise money and awareness of the charity, including station collections across London's tube and rail network. 
A full events calendar can be found here