29 Dec 2015
We are trialling a brain scanner in the pre-hospital environment, to detect on scene for potentially life-threatening head injuries. The Infrascanner works by detecting blood clots on the brain, allowing for earlier and more accurate diagnosis of potentially life-threatening injuries. Early diagnosis will speed up the patient's access to any further treatment that they may need once they arrive at hospital. 
Mark Wilson, London's Air Ambulance Doctor and Consultant Neurosurgeon at Imperial College London, said:"It is really important to be able to find out what is going on inside a patient's head, and get a clearer picture of any injuries sustained. By doing this during the transfer to hospital, we hope to be able to expedite treatments, such as surgery, by knowing in advance what type of brain injury the patient has." 
The Infrascanner is a small hand held device that takes less than two minutes to operate. By using it pre-hospital, it is possible to better inform emergency departments of potentially life-threatening bleeding on the brain. Doing so can enable operating theatres to be set up accordingly and ready for the next stage of treatment. It also means medical teams know when not to carry out certain treatments too, and it can also be used while the patient is being transferred to hospital, saving further potentially life-critical time for the patient.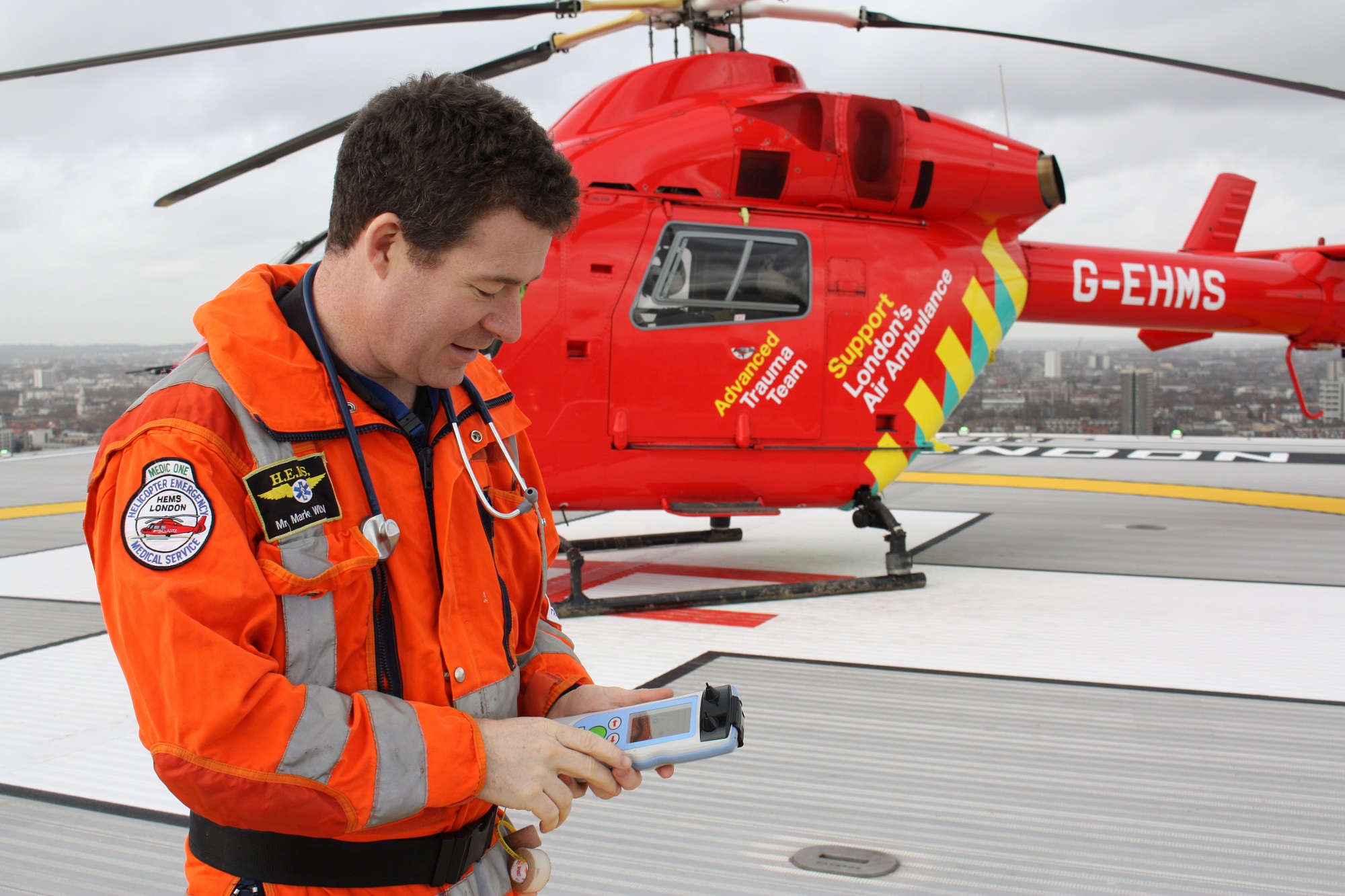 The device has a 90% accuracy rate in hospital for finding clinically relevant blood clots on the brain. With this trial, we aim to match these figures in the pre-hospital environment. 
The National Institute for Health Research (NIHR) Brain Injury Healthcare Technology Co-operative (HTC) has provided the seed funding through its 'Innovation Small Funding Competition 2014-5' to initiate this 'Pre-Hospital Brain Imaging' pilot study. Through extensive stakeholder engagement that included patients and carer representatives, the Brain Injury HTC's had identified pre-hospital scanning as a major unmet need. Our pilot Infrascanner trial started in Spring 2015 and will complete in Spring 2016 — it has been used on over 60 of our patients to date. 
Professor John D Pickard, Honorary Director of the NIHR Brain Injury Healthcare Technology Co-operative, said: "The HTC is delighted to be supporting Dr Wilson's vision of pre-hospital imaging of head injured patients through this pilot study. London's Air Ambulance and other pre-hospital emergency providers are to be congratulated upon their enthusiasm for research to identify affordable ways to further improve the outcomes for our critically injured patients." 
Having treated over 34,000 people, we have an international reputation for pioneering medical procedures which have been adopted across the world. We pioneered thoracotomy (open heart surgery) at the roadside and were the first air ambulance to carry blood on board in the UK. Last year we performed the world's first pre-hospital Resuscitative Endovascular Balloon Occlusion of the Aorta (REBOA), a pioneering technique to prevent patients from bleeding to death from severe pelvic injury. We have performed REBOA three times and have had two survivors of the procedure.
We are a charity that treats on average five critically injured people in London each day, performing medical interventions at the roadside which are normally only found in a hospital emergency department. Barts Health NHS Trust provide the doctors and some financial support and the London Ambulance Service provides the paramedics and expertise to dispatch our service, but we still rely heavily on voluntary donations.