27 Feb 2019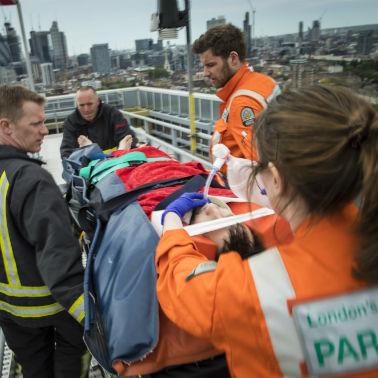 Today we are releasing our mission statistics for 2018 in order to raise awareness of the work we do day and night to help save lives in the capital.
Analysis of the data shows that Londoners are most likely to need our trauma team in Southwark or Islington on a Saturday in April between 10 and 11pm.  Of the 1656 critical missions the team were dispatched to penetrating trauma (stabbings and shootings) remains the most common reason for us to be dispatched, but the percentage has dropped from 31% in 2017 to 29% in 2018. The 'other' category has risen most significantly from 16% in 2017 to 22% in 2018.  Mechanisms of injury covered in this category include patients hit by trains, hangings and drownings.
Of the 1656 patients treated, the mechanisms of injury were:
Stabbings and shootings: 485 (29% of total)

Road Traffic Collisions: 469 (28%)

Falls from height: 346 (21%)

Other: 356 (22%).
Lead Clinician Dr Gareth Grier said:
"These statistics show that every day in London five people of all ages and backgrounds are so critically injured that without urgent intervention they could die. Thanks to the generous support of Londoners and our partners Barts Health NHS Trust and London Ambulance Service, London's Air Ambulance can be at the side of these critically injured patients within minutes.
In 2018, and now into 2019 we continue to see patients who couldn't have predicted they might suddenly be affected by traumatic injury. Severe injury can happen to any one of us at any time, and our team work tirelessly to be ready to help when the time comes for someone to need us. We want to provide the best possible care that can be delivered anywhere in the world and try to do this every day.
The service needs to continue to innovate to ensure that we are delivering the most cutting edge care available.  In the next few months and years we will be looking at delivering new procedures such as Zone 1 REBOA and freezing which we think will give even more patients the best chance of survival so that the impact on their lives and the lives of their loved ones is minimised.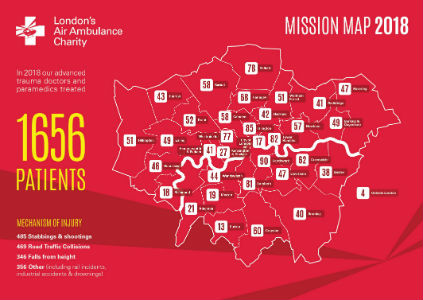 We are grateful to all of those who support our work, and hope that people in London will continue helping us achieve our mission to save more lives.  With their help we can make sure we continue to be there for our patients wherever and whenever they need us and however they have been critically injured."
In 2019 our service marks our 30th anniversary with the support of HRH The Duke of Cambridge, who is Patron of our 30 Years Saving Lives campaign.  The campaign aims to highlight our vital work in delivering life-saving treatment across London, and raise support for the development of new facilities.  Providing a 24/7 service for London costs £10 million per year, of which nearly £8 million has to be raised through donations.
Jonathan Jenkins, CEO of London's Air Ambulance Charity, said:
"30 years of experience has taught us that trauma doesn't discriminate.  Serious injury can happen to anyone, at any time.  It is vital that London knows that should the worst happen, our medical team can be by their side within minutes, performing critical and often life-saving interventions. We hope that by releasing these statistics, people in London will be able to see the scale of our work across the capital, and the way we have helped in their community.
With our annual costs at £10 million, and an ambitious vision to save even more lives, we have never been more reliant on the generosity of London. I urge people to continue to support our charity as we mark 30 Years Saving Lives in the capital. Your help allows us to be there for those who need us most."
The data is also broken down by area, which shows that the busiest boroughs were Southwark, Islington and Tower Hamlets and the busiest postcode areas were NW1, N1 and SE1.
Top Ten Busiest Boroughs 2018

Top Ten Busiest Postcodes 2018

1. Southwark

(90 patients treated)

1. NW1

(38 patients treated)

2. Islington

(85 patients)

2. N1

(35 patients treated)

3. 

Tower Hamlets

(82 patients)

2. = SE1

(35 patients treated)

4. Lambeth

(81 patients)

3. 

W1

(30 patients treated)

5. Enfield

(78 patients)

4. IG11

(24 patients treated)

6. Westminster

(77 patients)

4. = E14

(24 patients treated)

7. Haringey

(68 patients)

5. CR0

(23 patients treated)

8. Greenwich

(62 patients)

6. N17

(22 patients treated)

9. Croydon

(60 patients)

6. = EC1

(22 patients treated)

10. Camden

(58 patients)

7. E3

(21 patients treated)

10. = 

Barnet

(58 patients)