22 Jun 2015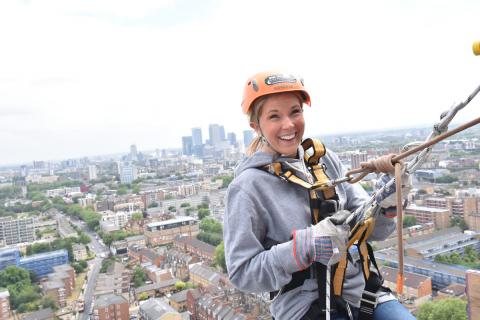 Daredevils from all over London abseiled off the London's Air Ambulance helipad this weekend — the highest in Europe — to support the charity. The 284ft high helipad sits on the top of The Royal London Hospital in Whitechapel. 
Now in its third successful year, the event ran over three days from Friday 19th to Sunday 21st June and has so far raised over £70,000. The funds will help deliver our advanced trauma team to the 10 million people who live, work and commute through the capital every day. Some of the abseilers have also fundraised specifically for our 'Your London, Your Helicopter' campaign for a second emergency medical helicopter. 
Edmonton born Larry Lamb, well known for playing Archie Mitchell in EastEnders and Mick in Gavin and Stacey, took part in the event. Larry decided to do the abseil in order to help raise awareness of the vital work that the charity carries out every day. He was also joined by BBC London presenter Victoria Hollins, the charity's Chief Operating Officer Charles Newitt, and Edward Youens — a 92 year old great-grandfather from Harrow. 
Larry said: "Supporting London's Air Ambulance is a decision I made after learning it is a charity. You never know if and when you will need them. I'm hugely proud and full of admiration for the doctors, pilots, paramedics and operational teams at London's Air Ambulance who work tirelessly around the clock to save lives." 
London's Air Ambulance CEO, Graham Hodgkin said: "Our aim is to provide our patients with the world's most innovative and effective pre-hospital care. The proceeds from the abseil will go towards helping us achieve that aim. On behalf of all of us at the charity, I am extremely grateful to all of our supporters that have taken part in the event. Having previously dropped off the helipad myself to raise funds, I know exactly what it feels like as you tip over the edge, as well as the huge sense of pride — and relief — when your feet hit solid ground!"