9 Jan 2022
This year marks the 20th anniversary of London's Air Ambulance's Physician Response Unit (PRU).
The PRU was launched in 2002 with the aim to deliver safe, effective and patient-centric emergency care in North East London by bringing the Emergency Department to the community.
Dr. Gareth Davies, Consultant with London's Air Ambulance and Medical Director at the time the service was launched, said: "The PRU project was planned and created to help reduce hospital admissions and provide more critical care to injured patients, with an additional vehicle which would help reduce ambulance downtime."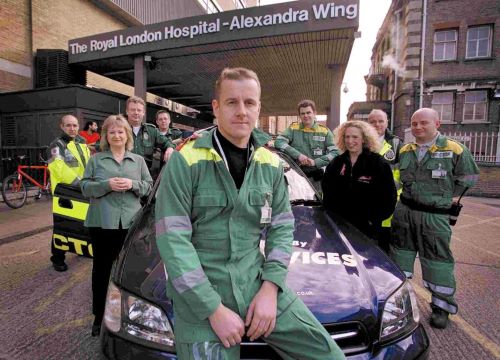 For 20 years now the PRU has promoted a shared decision-making model which empowers patients and facilitates clinicians to identify the right care, in the right place, at the right time. In doing so, it provides definitive clinical assessment, often in patients' own homes, delivering urgent, emergency and palliative care which is holistic and accurately matches patients' needs.
Tom Hurst, Medical Director at London's Air Ambulance, said: "We're in a fantastic position after 20 years and it's brilliant to be able to celebrate that, as well as the dedication and vision of those who have championed the service."
During these 20 years, the PRU service has evolved and developed. In October 2017, the PRU was remodeled to a seven-day-a-week service, meaning 50 per cent more patients were seen and more hospital and ambulance resources were freed up in East London. In 2018, Emergency Department nurses joined the PRU team, and in January 2020, a PRU Consultant on call service was merged into the operation to help manage the critical care advice calls. April 2020 saw a second PRU car added to the service, which amended the shift schedule to two 10-hour shifts. During the pandemic the PRU also expanded to help support the Covid-19 response.
More recently, in December 2021, the PRU saw it's first-ever Royal Naval Nurse join the team, and more secondments are planned to be rolled out.
These developments have been game-changing, and we look forward to the future as we strive to develop further to save more lives in London through rapid response and cutting-edge care.
Being part of the PRU is something we should all be proud of. The Charity and the trauma teams have made this achievable – we're here as a collective – and that is definitely something to celebrate.
Bill Leaning, Clinical Manager for PRU
Today (9 January 2022) also marks the 33rd anniversary of London's Air Ambulance Charity, and we thank everyone who has supported us throughout this time. Jonathan Jenkins, CEO of London's Air Ambulance Charity, said: "Congratulations to everyone who has been involved in the PRU over the last 20 years, and thank you to everyone's support for this pioneering service that has undoubtedly improved patient care and experience and continues to do so."
The PRU is delivered in partnership with Barts Health NHS Trust, London Ambulance Service and London's Air Ambulance Charity, and we are thankful to these partners for their support.
Alistair Chesser, Group Chief Medical Officer for Barts Health NHS Trust, said: "The Physician Response Unit is a strong example of how closer collaboration with our partners can result in improved care for our patients. We are proud to support this service, and congratulations to all involved."
Dr Fenella Wrigley, London Ambulance Service's Chief Medical Officer, said: "Services like this help ensure we continue to provide the best possible care for Londoners. We're proud to have collaborated with London's Air Ambulance Charity and Barts Health NHS Trust on PRU over the past 20 years. 
 
"Taking the clinical expertise of the emergency department into a person's home means we can often save patients an unnecessary hospital visit. It also frees up ambulances, which helps us care for our sickest and most seriously ill patients during a very busy time for London Ambulance Service." 
If you'd like more information on the PRU service, please click here.