21 Jul 2016
Early death following head trauma could be prevented with quick, simple interventions

Head injury could be minor but Impact Brain Apnoea (IBA) — the cessation of breathing following a traumatic brain injury — may actually be what causes death

Medical Director at London's Air Ambulance first started to notice the phenomenon in his role as a Director at the TT motorcycle races as he would often see head injured patients immediately after the crash occurred

The authors of the paper, Impact Brain Apnoea — a forgotten cause of cardiovascular collapse in trauma, includes two London's Air Ambulance doctors, who have rediscovered forgotten research dating back to 1705 
Apps such as GoodSAM, which alerts first responders to nearby emergencies, may help and can be downloaded by anyone
Early death following head trauma is often thought to be due to traumatic brain injury, but a rediscovery of research dating back over 300 years has shown that this may not be quite so simple. Instead — Impact Brain Apnoea (IBA) — the cessation of breathing following a traumatic brain injury — could actually be the cause of early death in some head injured patients. Quick, simple and preventable interventions may improve outcomes for these patients and help save lives, a new report in 'Resuscitation' journal has highlighted. 
IBA occurs in patients with head injury when they stop breathing, which can damage the brain through oxygen starvation and lead to avoidable death. Animal models have demonstrated that after a brain injury, sometimes relatively minor, it is common for animals to not breath. Clearly if this does not recover and no artificial respiration takes place, the animal will not survive. The clinical experience of London's Air Ambulance, alongside others, is providing evidence that this also occurs in humans and early intervention could save lives. The authors of the paper, Impact Brain Apnoea — a forgotten cause of cardiovascular collapse in trauma, includes two London's Air Ambulance doctors, who have rediscovered forgotten research dating back to 1705.  
Medical Director at London's Air Ambulance, Dr Gareth Davies, is one of the authors of the paper. He first started to notice the phenomenon in his role as a Director at the TT motorcycle races, in the Isle of Man, as he would often see head injured patients immediately after the crash occurred.
Dr Davies said:"Our research was anecdotal, and started with a simple call to the medical community through social media to see if anyone else had noticed it too. It wasn't long until my inbox was flooded with emails from doctors, paramedics and first aiders that had been going to boxing, cycling and horse-riding events and saying that they think they had seen it too."
He added: "An aim of publishing this paper is to open up new doors into research of head injury and its effects. We are only really beginning to understand the implications of IBA — not just what it does to the brain but also our understanding of cause of death at scenes of incidents. All of this is such a rich vein of future neuro and cardio vascular research into shock and head injury. Once you start to appreciate it you realise it is not so uncommon after all, you just have to actually be at the incident to perhaps notice it or look for its effects. We want to make more people aware of the issue of IBA and promote further research."
Co-author Mark Wilson, London's Air Ambulance Doctor and Consultant Neurosurgeon at Imperial College London, said:  "Medicine commonly likes to forget what has come before it and go down new tracks, but historical observation in the case of IBA shows that this could have been the cause of death for a very long while, we just haven't appreciated it. Treatment is hyperacute care in seconds after the injury rather than new interventions once hypoxic brain injury has occurred. The actual brain injury can be minor so recovery can be excellent."
Mr Wilson is also a co-founder of GoodSAM, an app which alerts first responders to nearby emergencies. He added:"Trauma is the commonest cause of death in under 45s and brain injury is a huge component of that. Intervene quickly enough with basic airway and other skills and lives can be saved."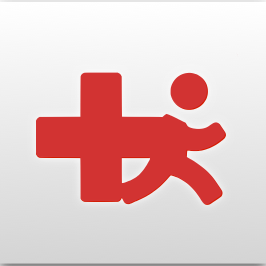 Anyone can download GoodSAM App free:
•Medically trained professionals download the Responder version on the App Store or Play Store. 
•Members of the public download the Alerter version on the App Store or Play Store
Last year London's Air Ambulance treated 1826 patients, 57% of which were involved in road traffic collisions and falls from heights — mechanisms that are commonly associated with causing head injury. Having treated over 34,000 people, London's Air Ambulance has an international reputation for pioneering medical procedures which have been adopted across the world. 
London's Air Ambulance treats on average five critically injured people in London each day, performing medical interventions at the roadside which are normally only found in a hospital emergency department. Barts Health NHS Trust provide the doctors and some financial support and the London Ambulance Service provides the paramedics and expertise to dispatch the service. The charity relies heavily on voluntary donations and has a world class reputation for delivering clinical innovation and excellence at the roadside. Learn more about the service at londonsairambulance.co.uk