8 Jan 2020
In 2019, our charity celebrated 30 years of saving lives. Thank you to all our supporters for making the anniversary year truly remarkable. You have kept us operational for the last 30 years and we cannot thank you enough for helping us save lives in London. To mark our 31st birthday today, here are some of the highlights from the past year.
The Duke of Cambridge became Patron of our 30th anniversary campaign
In January, the Duke flew our non-operational aircraft, G-EHMS, from Kensington Palace to the helipad alongside Chief Pilot Captain Neil Jeffers. He met the staff and former patients of our service.
London Football Clubs joined forces to back our life-saving charity
In July, London's Premier League clubs joined together as one team in order to give their support to our charity as we marked our 30th anniversary.
Saving Time Saving Lives appeal receives almost £2 million boost
In August, the HELP Appeal, a charity dedicated to funding hospital and air ambulance helipads, kindly donated £250,000 to our charity and Barts Health NHS Trust received £1.4 million from the Department for Health and Social Care. The money raised will go towards much needed redevelopment of our helipad base, which is kindly provided to us by Barts Health NHS, and will help support our advanced trauma team.
Our crew sailed through to an incredible second place in the Kings Cup
On August 8th, The Duke and Duchess of Cambridge went head to head in The King's Cup. Our charity was selected as a beneficiary of the inaugural sailing regatta launched by Their Royal Highnesses to raise awareness and funds for eight of their patronages. We competed for the historic trophy and sailed through to an incredible second place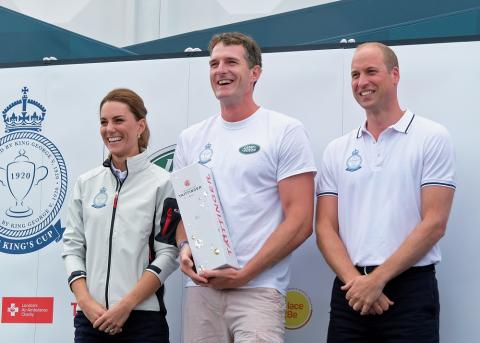 Channel champions complete their challenge
In September, a team from our charity successfully swam the English Channel in aid of our life-saving service. The group, representing all areas of our charity including pilots, doctors, a paramedic and a former patient, divided into two teams to swim the 21 mile stretch in relay. The teams were up against undeniably tough conditions, with the attempt being postponed and almost cancelled due to adverse weather. Nevertheless, the teams fought on against strong tides, heavy winds and even jellyfish to make it to the French coast.
Fearless fundraisers raise £110,000 in helipad abseil
We hosted our seventh annual abseil event during National Air Ambulance Week in September, which saw almost 360 fearless fundraisers descend from our 305ft helipad base at The Royal London Hospital. The event smashed the target of £100,000, raising over £110,000.
30th Anniversary Gala raises £550,000 for our charity
Our 30th Anniversary Gala was our most successful ever, raising a record £550,000 for our life-saving charity. This is the equivalent of 275 potentially life-saving missions, helping us to continue to provide on-scene emergency care to the 10 million people who live, work and travel in the capital.
Find out more about our history and see how your support has made a difference over the last 30 years in our Timeline.